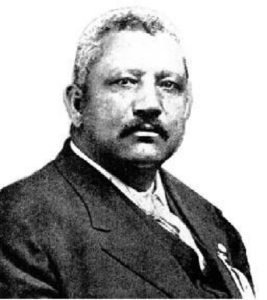 James B. Dudley
We speak proudly of our Alma Mater, James B. Dudley High School, and we know that its namesake was a former president of A&T. But what do we really know about James B. Dudley, the man? Some accounts of his biography differ depending on the writer, but most of the information is consistent.
James Benson Dudley was born to slave parents on November 2, 1859, in Wilmington, North Carolina, just a few years prior to the start of the Civil War. At the end of the war, he attended his hometown Missionary School and later an experimental school (sponsored by the Freedman's Bureau) for African American youth in Philadelphia, Pennsylvania.
Dudley graduated from Shaw University in Raleigh, North Carolina and a first grade teacher's certificate from Sampson County, North Carolina was awarded to him. In addition to being a teacher, he was principal of the Peabody School in Wilmington for  approximately fifteen years, served as editor of the Wilmington Chronicle and was active in politics.
Dr. Dudley was first appointed a member of the A and M College Board of Trustees [now A&T] by the [North Carolina] legislature in 1895. He was then elected the board's secretary in May of the same year and in May, 1896 was named president of the college.   Thanks to hard work and persistence, the College enrollment and curriculum steadily grew along with its physical plant and farm holdings, which increased to 100 acres  equipped with labor saving farm machinery and devices.  Susie Wright Sampson Dudley, wife of Dr. Dudley, is credited with writing the words to the A&T Alma Mater.
On Saturday, April 4, 1925 after serving the college for twenty nine years, James B. Dudley passed quietly at his home, the Magnolias, located on Dudley Street. The street was named in honor of him by the city of Greensboro. Two impressive structures bear his name in tribute to his contributions to  education – Dudley Memorial Hall on the campus of North Carolina A&T State University, and our own James B. Dudley High School.  Although Dudley did not live to see either of architectural tributes, they stand as reminders of an educator who contributed greatly to the cause of education for his people.